Introduction: Empowering Your Online Presence with Zyro AI Website Builder
In the fast-paced digital age, a compelling online presence is essential for success.
Zyro AI Website Builder is your ticket to creating a stunning website without the complexities of coding.
This article delves into the features, benefits, and potential drawbacks of Zyro, uncovering how it can be your ultimate tool for crafting a captivating online identity.
| Feature | Value |
| --- | --- |
| Free plan | ❌ NO |
| Starting price | 💰 $2.59 /month |
| Number of templates | 🎨 100+ |
| Apps/integrations | ❌ None |
| E-commerce tools | ✔️ Yes |
Zyro AI Website Builder offers a range of features tailored to your needs. Let's explore the offerings in more detail:
Free Plan: Unfortunately, Zyro's free plan is not available. However, the benefits of their paid plans are well worth considering.
Starting Price: Zyro's plans begin at just ₹208 per month, making it an affordable choice for individuals and businesses alike. With this budget-friendly entry point, you can access a plethora of features to enhance your online presence.
Number of Templates: Zyro spoils you for choice with a library of over 100 templates. These templates cater to various industries and styles, ensuring you find the perfect match for your website's aesthetics.
Apps/Integrations: Unlike some other platforms, Zyro currently doesn't offer a wide array of third-party apps and integrations. However, their native features and AI tools compensate for this limitation.
E-Commerce Tools: If you're looking to set up an online store, Zyro has you covered. Their e-commerce tools empower you to showcase and sell your products or services seamlessly.
Whether you're an entrepreneur, a creative individual, or a business looking to expand its online reach, Zyro's features provide a robust foundation for your website-building journey. So, consider your goals, explore the options, and take advantage of Zyro's offerings to elevate your digital presence.
The Zyro Experience: Features that Spark Your Creativity
No-Code Simplicity
Zyro's core strength lies in its no-code approach. Imagine a canvas where you can bring your website vision to life without grappling with lines of code.
The drag-and-drop editor facilitates seamless arrangement of elements, perfect for beginners and professionals alike.
AI-Powered Magic
Zyro isn't just another website builder; it's equipped with AI tools that elevate your website creation process. From an AI Writer for content creation to an AI Logo Maker for your brand identity, these tools redefine your creative boundaries.
Diverse Templates
Jumpstarting your website has never been easier. Choose from an array of templates tailored to various niches, giving you a head start on your design journey.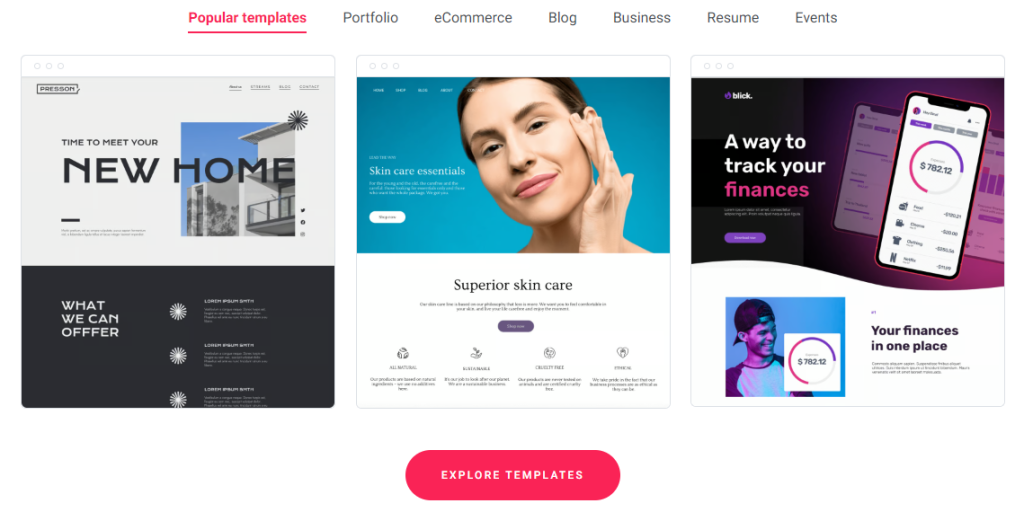 Ecommerce Functionality
Setting up an online store? Zyro's got you covered. Seamlessly integrate ecommerce functionality to showcase and sell your products or services.
Mobile and SEO Optimization
In an era dominated by smartphones, Zyro ensures that your website looks impeccable on any device. Moreover, its built-in SEO tools empower you to optimize your website for search engines, boosting your online visibility.
Pricing plans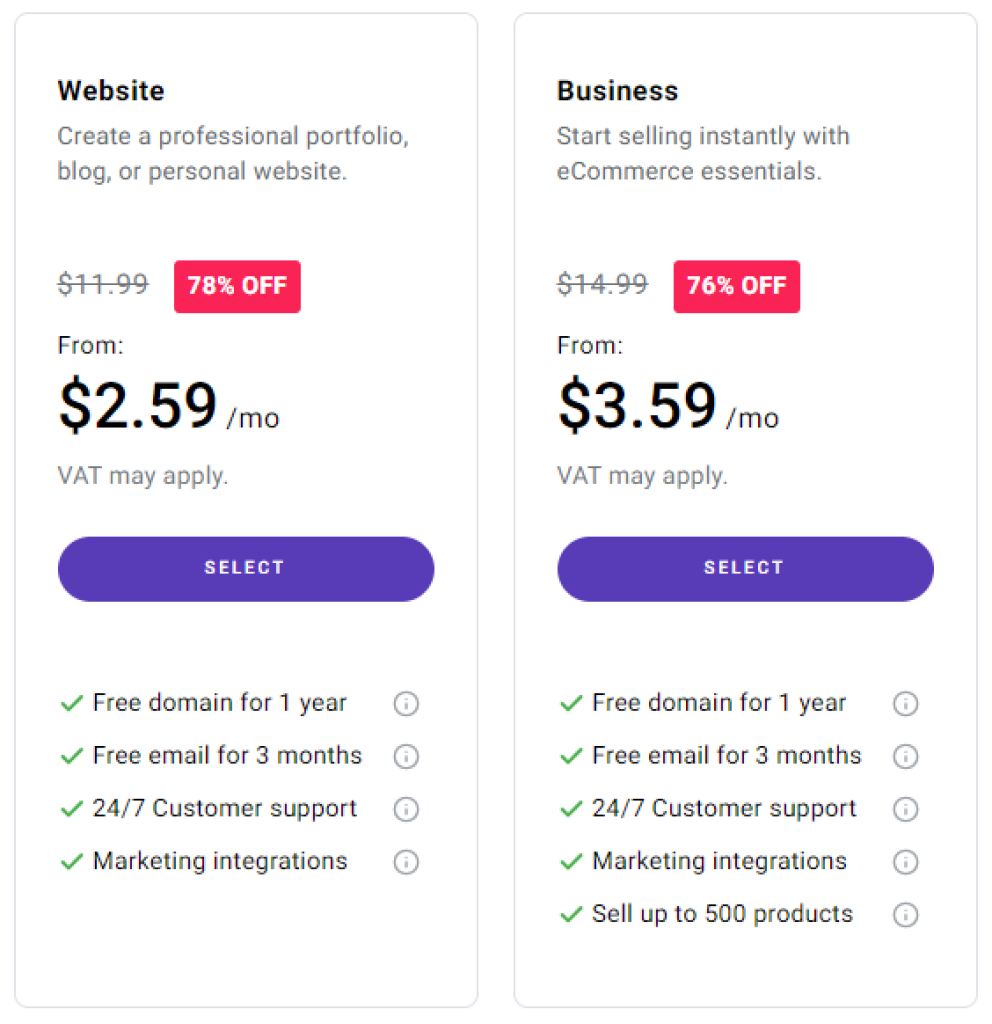 Pros
User-Friendly Interface: Zyro's interface is a user's dream, designed to ensure a seamless experience, even for those with minimal technical expertise.
Affordability: Crafting a professional website doesn't need to be expensive. Zyro's plans start at just $2.90 per month, making it accessible for a wide range of users.
Feature Diversity: Zyro goes beyond website creation, offering a suite of AI tools and features that cater to multiple needs.
Mobile and SEO Optimization: Zyro doesn't just build websites; it builds websites that excel on all platforms and rank well in search engine results.
24/7 Support: Technical challenges can arise at any time. With Zyro, you're backed by round-the-clock customer support to assist you in your journey.
Cons
Limited Customization: While Zyro offers an impressive array of features, those seeking extremely advanced customization options might find limitations.
Advanced Features: For users with specific, highly advanced needs, Zyro might lack a few features they're looking for.
A Glimpse into the Competition: How Zyro Compares
In a world of website builders, Zyro stands tall and competes with the likes of:
While each platform has its strengths, Zyro's simplicity and AI-driven approach set it apart.
Strategizing Your Choice: Picking the Perfect Zyro Plan
Choosing the right Zyro plan requires a strategic approach:
Assess Your Goals: Understand your website's purpose. Are you an individual, a growing business, or an entrepreneur? Tailor your choice accordingly.
Read the Fine Print: Delve into the details of each plan. Ensure it aligns with your objectives and needs.
Comparison Matters: Don't settle for the first appealing plan. Compare offerings to find the one that perfectly aligns with your aspirations.
Embracing Zyro: Your Starting Steps
Embarking on your Zyro journey is a breeze:
Select Your Plan: Choose the Zyro plan that resonates with your website aspirations.
Account Creation: Sign up for an account to access Zyro's suite of tools and features.
Template Selection: Browse through the diverse templates and pick one that aligns with your vision.
Personalization: Add your content, images, and personal touch to make your website uniquely yours.
Launch Your Creation: Hit the "Publish" button to unveil your masterpiece to the digital world.
Concluding Thoughts: Elevate Your Digital Presence with Zyro
Zyro AI Website Builder transcends mere website creation; it's a gateway to turning your online dreams into reality. Whether you're a budding business, an artist showcasing your portfolio, or a nonprofit spreading your message, Zyro's intuitive features and AI-enhanced tools empower you to shine in the digital space. So, dive into Zyro's world and watch your online presence flourish.