Introduction
In the digital world, handling documents efficiently is a must. That's where PDFfiller comes in. It's a tool that makes working with documents a breeze. Whether you need to edit, sign, or share PDFs, PDFfiller has you covered.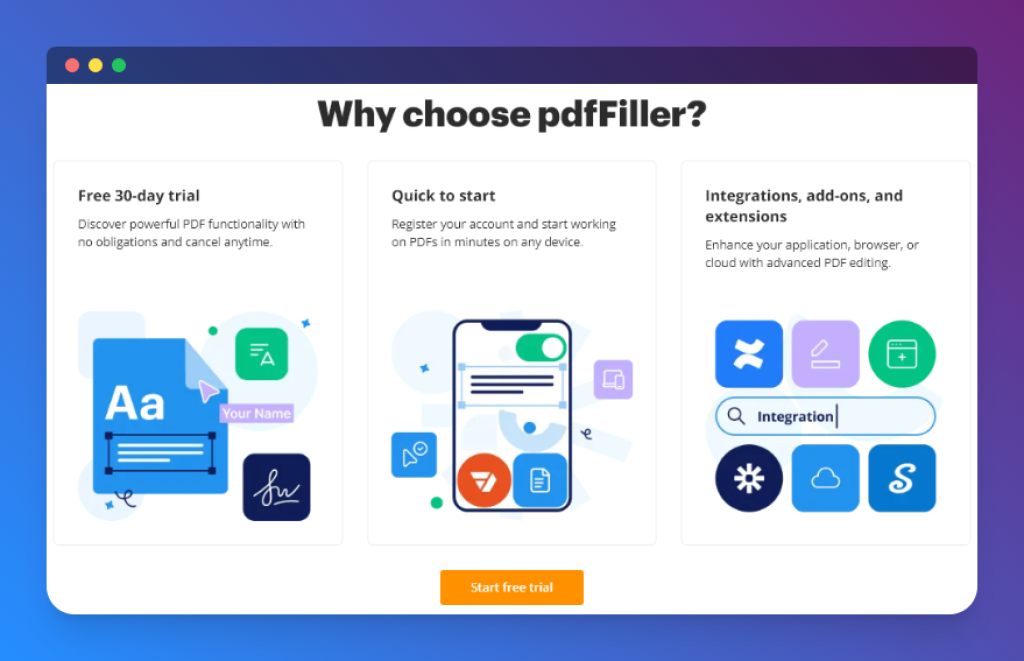 Understanding PDFfiller
PDFfiller is a website that helps you manage your documents online. It's like a virtual toolbox for dealing with PDFs. With PDFfiller, you can do things like change text, fill out forms, and even put your signature on documents.
What Can You Do with PDFfiller?
Edit PDFs: Change text, add images, and make your documents look just the way you want.
Fill Forms: Ever had to fill out a form online? PDFfiller makes it easy – just type in the blanks.
Sign Electronically: No more printing and scanning. Just add your signature right on your computer or phone.
Collaborate: Need to work with others on a document? PDFfiller lets you share and work together in real-time.
Why Choose PDFfiller?
Simple and Easy
You don't need to be a computer whiz to use PDFfiller. Its website is designed to be easy to use. So, whether you're a tech expert or a newbie, you'll find it a breeze.
Useful for Everyone
PDFfiller isn't just for business folks. It's for students, teachers, and anyone who deals with documents. It's a helpful tool for everyday life.
How Does PDFfiller Work?
Step-by-Step
Upload: Put your PDF document on the website.
Edit: Make changes using the tools provided.
Fill Forms: Complete forms by typing in the boxes.
Sign: Add your signature with a click.
Collaborate: Share your document with others to work together.
Pricing Plans
| Pricing Edition | Deployment | Pricing |
| --- | --- | --- |
| Basic | On Premise | $8 per month |
| Basic | Cloud | $8 per month |
| Plus | On Premise | $12 per month |
| Plus | Cloud | $12 per month |
| Premium | On Premise | $15 per month |
| Premium | Cloud | $15 per month |
The Good Stuff
Faster and Neater
By using PDFfiller, you save time and hassle. No more printing or hunting for a pen. Everything is done online, and your documents look clean and professional.
Saves Money
Think about all the paper and ink you won't use. PDFfiller helps you save money on printing costs. Plus, you won't need as much physical storage for papers.
Green Impact
Less printing means less waste. By using PDFfiller, you're helping the environment by using fewer resources.
PDFfiller's Plans and Pricing
You can choose a plan that suits your needs:
Basic: If you just need the essentials for personal use.
Premium: For professionals and small businesses with more advanced needs.
Business: Perfect for larger teams and organizations that need to collaborate.
Wrapping Up
In a world where digital tools rule, PDFfiller shines bright. It's like a magic wand for handling documents. Say goodbye to printing, scanning, and piles of paper. With PDFfiller, document management becomes a walk in the park.
Ready to make your document life easier? Give PDFfiller a try and see the difference.
What is PDFfiller?
PDFfiller is a website that helps you work with PDFs. You can change them, write on them, and share them. It's like magic for your PDFs!
How does PDFfiller work?
PDFfiller is like a friendly computer friend. It lets you open PDFs and make changes. You can put words, pictures, and even your signature. You just need the internet to use it.
What can I do with PDFfiller?
You can write on PDFs, fill out forms, put your name on them, and even change them into other formats. It's like having a special toolbox for your PDFs.
Can I use PDFfiller for school and work?
Yes, PDFfiller is for everyone. If you have school papers or work stuff, you can use it.
How do I pick the right plan?
There are different plans for different things. Look at the prices and see what you need. If you're not sure, you can try it for free first.
Can I try PDFfiller before paying?
Yes, you can! PDFfiller lets you try it without paying. You can see if you like it and if it's useful for you.