What is SignNow? A Convenient Solution for eSignatures
Simplifying SignNow: Your Guide to Easy Document Management
When it comes to managing documents in today's fast-paced business world, simplicity is key. Enter SignNow, an innovative eSignature platform designed to streamline document signing and enhance workflow efficiency.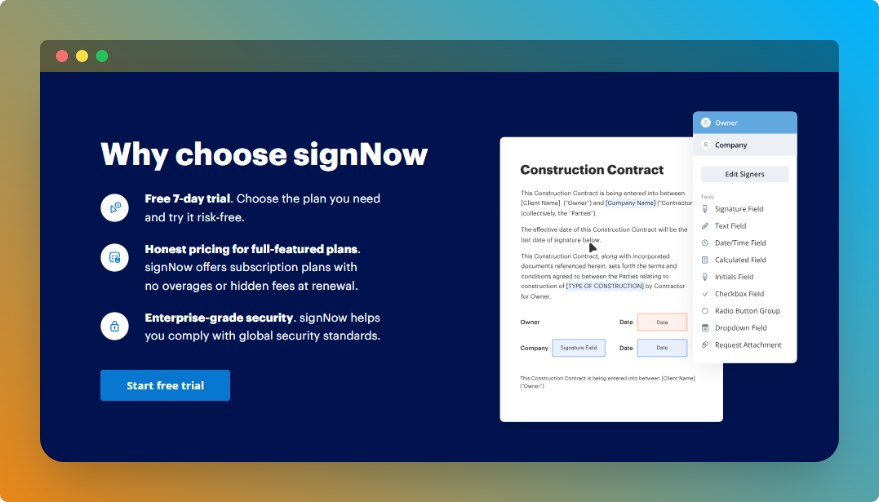 In this blog post, we'll delve into SignNow's features, advantages, target audience, and key takeaways.
Whether you're a small business owner, a manager in a medium-sized enterprise, or part of a larger organization, SignNow offers solutions tailored to your needs.
Features That Simplify Document Management
SignNow's features are designed to make document signing and management a breeze:
Effortless E-Signatures: Say goodbye to the hassle of physical signatures. SignNow enables electronic signatures using a mouse, touchpad, or touchscreen.
Templates for Consistency: Create reusable templates for frequently used documents, ensuring consistency and saving time.
Customization with Fillable Fields: Easily personalize documents by adding fillable fields for names, addresses, and more.
Automated Calculations: Let SignNow handle complex calculations with its calculated fields feature.
Adaptable Fields: Make use of required and conditional fields for tailored documents that adapt to your needs.
Guided Signing: SignNow's intuitive interface guides signers through the process, reducing confusion.
Efficient Bulk Sending: Save time by sending multiple documents at once using the bulk sending feature.
Collaborative Group Sending: Enhance teamwork by sending documents to multiple recipients simultaneously.
Transparent Audit Trail: Maintain document authenticity with SignNow's audit trail feature.
Pros and Cons of SignNow
Pros:
Streamlined document signing process
Time and cost savings through automation
Improved workflow efficiency
Enhanced security and compliance
Cons:
Dependency on internet connectivity for cloud-based access
Benefits for Businesses
By incorporating SignNow into your workflow, your business can:
Save time and reduce manual tasks
Increase efficiency and productivity
Cut costs associated with printing and postage
Enhance document security and compliance
Target Audience
SignNow caters to a wide range of users:
Small Business Owners: Simplify document management and enhance professionalism.
Medium-Sized Enterprises: Streamline workflows and improve efficiency.
Large-Scale Organizations: Handle complex workflows and boost productivity.
Key Takeaways
SignNow offers a user-friendly solution for document signing and management.
Electronic signatures eliminate the need for physical signatures, saving time and resources.
Templates, fillable fields, and calculated fields enhance customization and accuracy.
Guided signing and bulk sending streamline processes and improve efficiency.
SignNow's benefits include time savings, cost reduction, and enhanced security.
Pricing
SignNow offers various pricing plans to cater to different business needs:
| Plan | Features | Price per User per Month |
| --- | --- | --- |
| Small Business | Basic eSignature features | Starting at $8 |
| Medium-Sized Teams | Branded eSignature workflows | Starting at $15 |
| Enterprises | Intricate eSignature solutions | Starting at $30 |
| Large-Scale Businesses | Automated eSignature workflows | Starting at $50 |
Conclusion
In conclusion, SignNow empowers businesses with a simplified approach to document management.
From small businesses to large enterprises, SignNow's features, advantages, and pricing cater to a diverse range of needs.
By embracing SignNow, you can streamline your document processes, enhance efficiency, and elevate your business operations.
FAQ
What is SignNow?
SignNow is a helpful tool that lets you sign documents online using your computer, tablet, or phone. It's like putting your signature on paper, but it's all digital.
How does SignNow work?
SignNow makes it easy to sign documents using your mouse or touchscreen. No need to print or scan anything!
What are templates in SignNow?
Templates are like ready-made forms you can use again and again. You make a template for a document you use often and fill in the details each time.
How does SignNow help with calculations?
SignNow can do math for you! It can automatically calculate things like totals in your documents.
Can I send documents to many people at once?
Yes! With SignNow, you can send the same document to lots of people all at once. It's a quick way to get many signatures.
Can SignNow save me money?
Definitely! SignNow saves on printing and postage costs. It's efficient and can save you time and money.
Who benefits from SignNow?
Small businesses, big companies, and anyone who needs to sign documents can use SignNow.